MOON ROOSTER




co-author, David Gershator




illustrated by チngel Velazco





Little Bell Caribbean, 2015






*
Governor's Summer Reading Challenge,
2015

Featured Title award, U.S.Virgin Islands.
From the book jacket:
Plenty of roosters wake up the sun, but who wakes up the moon?
A special rooster knows just what to cockadoodledoo.
The problem is, people don't appreciate his wake-up song.
What do they do? Chase him away! Poor Moon Rooster.
He's so scared he can't crow, and now the moon won't rise.
Can a little help from his friends set things right?

*

Cualquier gallo puede hacer salir el sol,
ソpero cuál puede hacer salir la luna?
Un gallo muy especial sabe exactamente cómo hacerla salir con su quiquiriquí. El problema es que la gente no aprecia su canto nocturno.
Y qué quieren hacer? 。Sacarlo del pueblo! Pobre Gallo Lunero.
Tan asustado está que ya no puede cantar, y la luna no saldrá.
ソPodrán sus amigos ayudarlo a resolver la situación?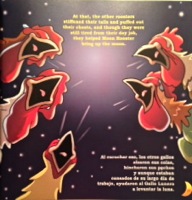 A little about the book:
Moon Rooster was first published in hardcover by Cavendish in 2001, with illustrations and asides by Megan Halsey. Now, thanks to Mario Picayo of Little Bell Caribbean, the story is available again as a paperback bilingual edition with bright, brand new, laugh-out-loud illustrations.
The popular Cuban artist, チngel Velazco, captures Moon Rooster's many moods, from pride to pathos, and surrounds him with an engaging cast of characters末chickens, more roosters, a collection of Caribbean critters, and lively humans, too末in the first contemporary North American picture book to be illustrated by a Cuban artist living in Cuba! Yes, a new day is dawning, and that's something to crow about.

Says Phillis--
For anyone who thinks roosters crow only in the morning, t'aint so! Awakened one night by a loud Caribbean rooster, David came up with our hero, and here are the words to his song which you can also hear on our CD. Don't forget to flap your wings when you sing along! And feel free to add to the barnyard cacophony!


Every night I crow and crow.
I make the moon rise up and go.
Cock-a-doodle doo, cock-a-doodle doo.
Up comes the moon for me and you.
I bring up the moon with a cock-a-doodle doo.
Everybody knows what I can do.
Flap my wings, puff out my chest.
Crow to the east, crow to the west.
Up comes the moon, shining bright.
Let's help the moon stay up all night.
Flap your wings and cock-a-doodle doo.
You can crow the way I do.
Cock-a-doodle, cock-a-doodle doo,
cock-a-doodle doo!

Sing some more! A new verse in Spanish:
Vamos a cantar quiquiriquí.




Cantamos allá y cantamos aquí.




Quiquiriquí, quiquiriquí.




Toda la noche, quiquiriquí.




Let痴 all sing cockadoodle-doo.




We値l sing over there.




We値l sing here, too.




Cockadoodle-doo, cockadoodle-doo.




Cockadoodle-doo the whole night through.



Says David末

This book is a personal favorite, based on a real live cock-a-doodle doo that keeps me up during the full moon.


From the reviews:

"

Moon Rooster

is a fun read末for adults who can appreciate the irony of the dumb doodledoo who thinks he's such a hero, and for youngsters who'll just enjoy it on literal terms."

St. Croix Source



"An insomniac rooster crows up the moon so it won't be so dark....The humorous, tongue-in-cheek tone of the telling and the original song at the end encourage audiences to help sing the story and make this a strong entry for story times."

School Library Journal